K-Laser Therapy Treatment: FAQ
The staff at Next Chiropractic & Sports Clinic is always looking for innovative and effective treatments that will help our clients find fast and long-lasting pain relief. It's why Cupertino chiropractor, Dr. Choi, is proud to offer cold laser therapy among his many non-surgical, non-invasive, and drug-free services.
If you've never heard of cold laser therapy before, we invite you to keep reading so you can learn more about this exciting technique: who knows, it could be just the tool you need to help you get past your pain!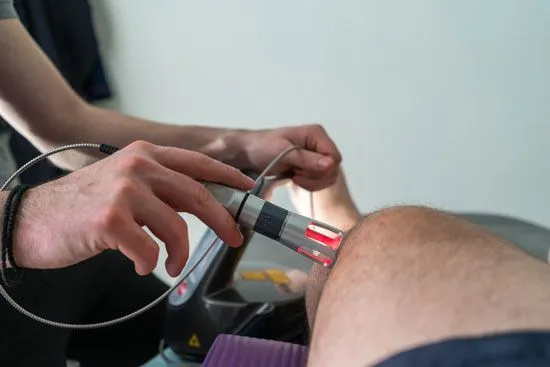 What is K-Laser Therapy?
Unlike the type of lasers used to make surgical incisions, cold laser therapy (also known as k laser, low level, or low-intensity laser therapy) is a non-invasive therapeutic treatment that uses invisible beams of light to elicit a cascade of healing biological and biochemical effects in targeted tissue.
If that sounds like a mouthful, here's a simpler way to think about it:
Cold laser therapy uses light energy to trigger healing, with virtually no side effects or adverse reactions!
How Does Cold Laser Therapy Work?
Light energy from the low-intensity laser beam (which is emitted from a wand-like device operated by our Cupertino and San Jose chiropractor) can facilitate healing in your body. Specifically, cold laser therapy has been shown to promote increased circulation and the conversion of glucose and oxygen into energy so your cells can repair and heal faster. Not only can this accelerate your recovery from an acute injury, but it can also reduce your pain, swelling, inflammation, stiffness, and other symptoms.
During your cold laser therapy session with our chiropractor in Cupertino, you will feel neither heat nor pain from the laser beam. A typical session can last anywhere from 10-60 minutes and may be provided in conjunction with other non-invasive chiropractic services.
Who is Cold Laser Therapy For?
As a pioneering chiropractor in San Jose and Cupertino, Dr. Choi has used cold laser therapy to help people suffering from a wide range of conditions, including:
Medial and later epicondylitis (aka, golfer's elbow and tennis elbow)
Acute sports injuries
Shoulder, knee, and ankle pain
Plantar fasciitis
Arthritis
Whiplash
It's safe for use on people of all ages and health histories, and could be the very thing you need to help you break through your symptoms!
Learn More From Our San Jose Chiropractor
Call Next Chiropractic & Sports Clinic, serving San Jose, Cupertino, Campbell, and surrounding Californian communities, to schedule an appointment with our San Jose chiropractor. Our number is 408-260-0222. Contact us today!